About me
I am an Engineer in automation and fine mechanics, born in 1954 in Germany, married and father to a son, working and living since 1983 in Norway nearby the Capitol Oslo in a little town with the name Skjetten.
I am still fully employed and turning wood in my leisure time as a relaxation to the daily routines in the office.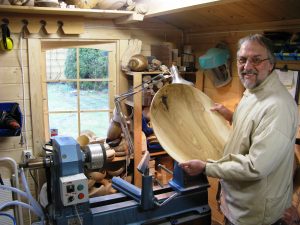 About my woodturning live
Since the beginning of the 90's of the last century in the past millennium i am turning wood.
It started with a rather primitive setup with a drill-driven lathe i inherited from my father, but very soon  i got caught by the woodturning bacillus. I bought my first real lathe, a British build Tyme Avon with a turn able head-stock with 4 speeds, and started to produce my first objects.
Fortunately i also bought a book from Richard Raffan which teached me. I continued in many years as self-learned woodturner and experienced most of the mistakes and near-incidents you could expect – but i learned a lot form these. I went to fairs and exhibitions and bought more books and videos (this was before the era of now well-known online-platforms) until i came to the point i felt i needed more tutoring to become better.
Around the year 2000 i met Jimmy Clewes on Holmen Gård in Norway where he was demonstrating his marvelous way to turn. I some years later discovered that he was tutoring workshops in Stavanger and decided to participate in 2007 – and it become a great experience. I learned much about tools, design, turning techniques, coloring, decorating and last but not least ex-center turning. It gave me a tremendous push in my work.
 The year after in 2008 i participated for the first time in an exhibition in Sandbekkstuen/Lørenskog in Norway nearby where i am living, arranged by the local art club.
The good experience with Jimmy encouraged me in 2008 to book a new workshop with Nick Agar. He fascinated me with his sense for colors and form.
With the impressions of these workshops i continued turning fetching new ideas and challenging my techniques by information from international fora on the internet and in magazines.
In 2011 then i participated on the Woodturning Cruise along the Norwegian west coast from Stavanger to Hammerfest  together with many internationally known woodturners and many woodturning enthusiast like myself. I experienced 11 days full of woodturning demonstrations and almost continuous workshops. It became the most inspiring arrangement i ever participated in.  Among others i met
Richard Raffan from Australia, one of the worlds best woodturners
Jimmy Clewes from UK , former mentioned acknowledged and respected woodtuner now living and travelling form the USA.
Mark Baker from UK, excellent woodturner and editor of the "Woodturning Magazin".
Glenn Lucas from Ireland, known for his extraordinary techniques in bowl turning
Bonnie Klein from the USA,  world known for her miniature objects.
Nick Agar from UK, former mentioned excellent woodturner known for his colorful and innovative work.
Rolly Munro from Australia, the inventor of the the Munro-tool and specialist in hollow forms
Åsmund Vignes from Norway, specialist of the ring tool.
Terry Scott from New Zealand, a fantastic woodturner.
On the cruise i got known with a woodturner from nearby in Norway which introduced me in to the Norwegian Folk Art and Craft Association and their local woodturning club.  Since than i have been teaching woodturning to newcomers, experienced turners and youngsters (age 14-24).
In 2013 i had my first exhibition in the Lillestrøm Art Association where i displayed 18 of my works and got very inspiring and encouraging feedback.